I am super de duper excited to announce my
FIRST EVER linkup party
! As most of you know, I loooooove taking pictures, so this linkup party is going to be a photo challenge called
"What inspires your senses?"
All are invited to participate, whether you're shooting on an iPhone or something a little more fancy.
Details:
On
Friday, November 22
, I challenge all of you to select 5 of your favorite
personal
photographs - one that best describes each of your 5 senses:
see, smell, taste, touch and hear.
As an added challenge, come up with one for the "
sixth sense
", an open-ended category to interpret your own way. The photos can be ones you've taken recently or those you've dug out of the archives, those you've taken in one location or in several. Use your imagination and get creative!
Rules:
1| Follow yours truly:
bloglovin |
instagram |
facebook |
twitter |
pinterest
2| Linkup your blog post on Friday, November 22 at 6:00am EST.
3| Please link back to t.o. & fro in your post, either with text or the below button.
4| Share with social media, using the hashtag #whatinspiresyoursenses.
5| Visit and check out as many blogs as you can to see what inspires others' senses!
6| Last, but definitely not least, get creative and have fun!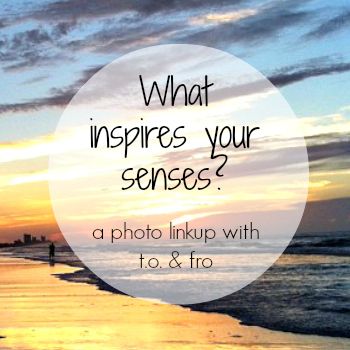 Don't forget to linkup here on Friday, November 22 to "sense" the world and connect with others through the universal language of photography! #whatinspiresyoursenses
In case you missed it, this past week I: