Today's
What Inspires Your Senses
? is all about the best of 2014. My favourite photos that inspired my sense of
hearing, smell, feeling, sight, taste and my "sixth sense"
.
I hope you'll join along...
The photos can be ones you've taken recently or those you've dug out of the archives, those you've taken in one location or in several and even those you've taken with a DSLR or on your
smart phone
. No photography skills are needed, just your imagination and creativity!
HEAR |
Mother Nature's whispers.
SMELL | Crisp fall air.
FEEL | Overwhelmed by big city life.
SEE | The rainbow sky as the sun sets over Lake Huron.
TASTE | The freshness of the sea.
"SIXTH" SENSE | A happy heart with my loves by my side.
What inspires your senses?
How to participate:
1| Link up your blog post with your photos, starting at 7:00am EST.
3| Link back to the party in your post, either with text or button below.
4| Check out as many blogs as you can to see what inspires others' senses!
5| Share on social media, using the hashtag #whatinspiresyoursenses!
6| Link up will be open for 1 week.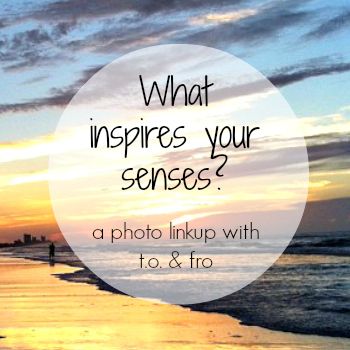 Show us what inspires your senses here: