The day has finally arrived - the first edition of "What Inspires Your Senses?" is here! If you're not familiar with WIYS, on the last Wednesday of every month, I will challenge you to select 5 of your favorite

personal

photographs - one that best describes each of your 5 senses:

see, smell, taste, touch and hear.

As an added challenge, come up with one for the "

sixth sense", an open-ended category to interpret your own way. The photos can be ones you've taken recently or those you've dug out of the archives, those you've taken in one location or in several and even those you've taken with a DSLR or on your smart phone. No photography skills are needed, just your imagination and creativity!
Let's get to it...
SEE:
Storm clouds rolling off Lake Huron
SMELL:
Homemade salsa
FEEL:
Love in the air
TASTE:
Fresh picked apples
HEAR:
Bald eagles playing
"SIXTH" SENSE:
Midnight sun nostalgia
Meet your co-host!
Connect with Jamie here: Blog | Twitter | Pinterest | Bloglovin
What inspires your senses?
How to participate:
1| Linkup your blog post with the photos that inspire your senses.
3| Link back to the party in your post, either with text or button below.
4| Check out as many blogs as you can to see what inspires others' senses!
5| Share on social media, using the hashtag #whatinspiresyoursenses!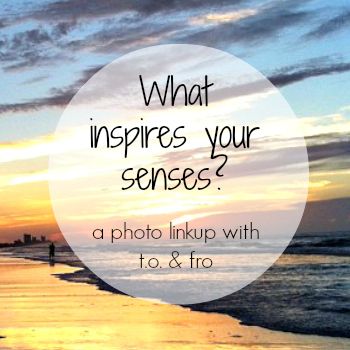 Mark you calendar for the next opportunity to linkup on Wednesday, November 26!
Interested in co-hosting in the future? Check this out.
Link up here:
Linking up with
Megan for Inspired Bundle #18
.