"What Inspires Your Senses?" is back for round 2! Thank you to everyone that participated in October. Let's make this month bigger and better!
If you're not familiar with WIYS, on the last Wednesday of every month, I will challenge you to select 5 of your favorite

personal

photographs - one that best describes each of your 5 senses:

see, smell, taste, touch and hear.

As an added challenge, come up with one for the "

sixth sense", an open-ended category to interpret your own way. The photos can be ones you've taken recently or those you've dug out of the archives, those you've taken in one location or in several and even those you've taken with a DSLR or on your smart phone. No photography skills are needed, just your imagination and creativity!
Let's get to it...
I was recently doing some
reminiscing
, looking at photos from our ultimate road trip, the 4500+ mile journey from Alaska to Toronto. The road trip was total sensory overload - the scenery was a visual buffet and the car was filled with emotions as we
left the place we called home for three years. Here's what inspired my senses on our long road trip home.
HEAR:
Nothing but the open road
Road to Whitehorse, Yukon
SMELL: Relaxation in the Liard River Hot Springs
Liard River Hot Spring, British Columbia
FEEL: Sad for these orphan brown bear cubs
Somewhere in northern British Columbia
SEE: This iconic Canadian landmark
Rouleau, Saskatchewan
TASTE:
Wisconsin cheddar and Alaskan smoked salmon
Eau Claire, Wisconsin
"SIXTH" SENSE: Love for my road trip partner
Jasper National Park, Alberta
Meet your co-host!



Connect with Sheryl here: Blog | Bloglovin

|

Twitter

|

Instagram
What inspires your senses?
How to participate:
1| Linkup your blog post with the photos that inspire your senses.
2| Follow your host (Mar @ t.o. & fro) & cohost (Sheryl @ How To Make a Life).
3| Link back to the party in your post, either with text or button below.
4| Check out as many blogs as you can to see what inspires others' senses!
5| Share on social media, using the hashtag #whatinspiresyoursenses!
6| Linkup will be open for 1 week.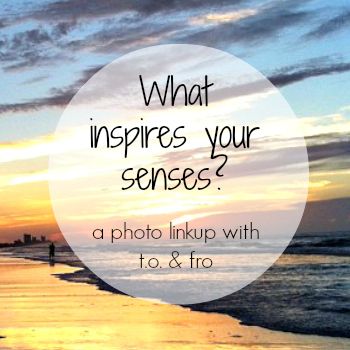 Mark you calendar for the next opportunity to linkup on Wednesday, December 31!
Interested in co-hosting in the future? Check this out.